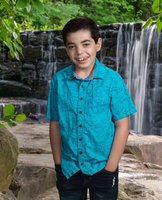 Edgar Mendonca Jr.
Edgar Mendonca Jr. was born on December 13, 2006 in Raleigh, North Carolina to Edgar Mendonca and Michely Avanzi (Matos) Mendonca. Edgar passed away on June 2, 2021 in Colorado Springs, Colorado. Edgar is preceded in death by his paternal grandmother, Marta Mendonca. He is survived by his loving parents, Edgar and Michely Mendonca, two brothers; Eslei and Tarsis Mendonca, sister, Maeli Mendonca, maternal grandparents, Clovis and Carolina Matos, paternal grandfather, Adelino Mendonca, as well as a large extended family in Brazil and in the United States. A public visitation will be held Thursday, June 10, 2021 from 12:00PM to 1:00PM at Ascension Lutheran Church, 2505 N. Circle Dr. Colorado Springs, CO 80909. A funeral service will be held immediately following the viewing. A graveside service will be held the same day at 3:00PM at Evergreen Cemetery, 1005 Hancock Expy, Colorado Springs, CO 80903. In lieu of flowers or contributions the family is asking to please email Michely at michelyavanzi@gmail.com or Michely's Venmo account @ Michely-Mendonca.
We're gathered here today to honor a light in our life that was extinguished unexpectedly. When we think about Junior a common saying that comes to mind that described him perfectly: "he wouldn't hurt a fly." He was a kind soul with a heart full of love. He had such curiosity and a happiness that would spread to everyone around him. It's amazing how he could always be smiling even with all the trails and pain he had to go through. He would always find a way to share that happiness with us. We believe that even though we've suffered a great loss today, he has left us with so many fond memories of good times. Throughout his short life he didn't need many words to show us how much he unconditionally loved everyone. Rest in peace Junior and may your smile always radiate within our hearts. We will always love you and carry your memories with us forever.
Nos estamos reunidos aqui hoje para honrar o nosso menino que foi tirado de nos inesperadamente. Quando nos pensamos no Junior um ditto popular que vem na cabeca que descreve ele perfeitamente e: ele nao machucaria uma mosca. Ele tinha uma alma pura e um coracao cheio de amor. Ele era muito curioso e a sua alegria contagiava a todos. Era maravilhoso de var como ele sempre estava sorrindo mesmo com todas as suas dificuldades e dores. Ele sempre encontrava um jeito de divider sua alegria com todos nos. Nos acreditamos que mesmo que a nossa perda e irreparavel, ele nos deixou com as melhores memorias dos bons tempos que passamos juntos. Durante sua curta jornada aqui na terra ele nao precisou de muitas palavras para mostrar o quanto ele amava a todos incondicionalmente. Descanse em paz Juninho e que seu sorriso sempre illumine os nossos coracoes. Nos sempre te amaremos e carregaremous suas memorias anjo amado, nosso campeao.