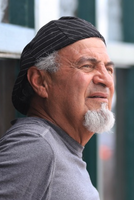 Enos Eddie Duran
Enos Eddie Duran was born on March 18, 1948, in Tucumcari, NM. He moved to Colorado in 1960 and attended Eaton High School where he was on the football and wrestling teams. In wrestling, he placed 2nd in the state in 1966.
He joined the Army in 1968. He did basic training at Ft. Bliss in Texas and advanced training in Ft. Sill in Oklahoma. He was then stationed in Frankfort, Germany where he completed the remainder of his service.
He was a proud union sheet metal worker with Local #9 where he worked on commercial buildings, including Denver International Airport. He retired from the trade in 2010.
Enos married Debra DiRenna in 1976 and they had two sons Jacob and Ian. Enos and Debra were blessed with 45 years of marriage.
Throughout his life, he lived in many places including Colorado, Pennsylvania, Arizona, and California.
Enos appreciated all types of music. He enjoyed dancing, playing the guitar, and took great joy from playing his conga drums. He was a sports enthusiast and spent countless hours watching his favorite football team, the Pittsburgh Steelers, and going to Rockies games.
He had a special gift with children and spoiled them whenever he had the opportunity. He had five grandchildren: Shae, Jace, Iana, Sophia, and Olivia, and has one great-granddaughter, Violet. He was also a godfather to Katie, Kaylea, and Isaac. He loved all of them dearly.
Enos had a great sense of humor and was forever playing pranks on his family, friends, and even sometimes those he had just met. He never truly knew a stranger. He loved life and lived it to the fullest with every moment.
Enos passed away at home on October 3, 2021, after a four-year battle with gastric cancer.
He was loved by all and will be greatly missed by those whose lives he touched.