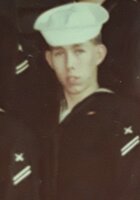 Daniel Belden
Daniel Belden was born October 21, 1946 in Des Moines, Iowa to Laurence and Betty Belden. He had 2 brothers, Larry and Paul Belden and 2 sisters, Susan and Mary Belden. All preceded him in death, except Paul Belden, who resides in Des Moines, Iowa with his wife Michelle.
Daniel graduated high school and then shortly after joined the Navy. He served as a Gunner's Mate on the USS Frank E. Evans Destroyer, as well as 2 tours of duty in Vietnam. One tour included patrolling the Vietnam Rivers in River Boats, also as a Gunner's Mate. After being honorably discharged, he served in the Navy and Army reserves as a medic and in food service. He attended Des Moines Area Community College and then Iowa State University, obtaining a degree in the process.
On December 21, 1974, he married Susan Peterson and they had 2 sons, Robert (Jaime) Belden and Ken Belden (Arlene Vendivil). Later Robert and Jaime added two grandsons Joshua and Jacob Belden to the family.
Daniel loved his sons and was quite proud of them. He adored his grandsons, who lovingly called him "Bapa." Through his life, he was very involved with all his boys and enjoyed family time. He also enjoyed his four-legged buddies, classic cars, and action and military movies. He was a history buff on all the wars.
In his later years, he and Susan continued to visit both sons and families frequently to enjoy family togetherness. He greatly enjoyed those times.
On December 23rd, 2021 his life on earth ended, but so many memories will live forever in us, keeping him alive in our hearts.