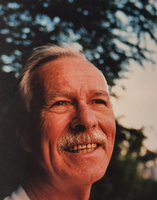 Gerald Lee Phillips
On March 18, 2022, Gerald Lee Phillips, father to six children, grandfather of 17 and great grandfather of 21, passed away at the age of 86 in his home in Littleton, Colorado, surrounded by his wife and children.
Jerry was born on June 4, 1935, in Tulsa, Oklahoma to Yale and Clarice Phillips. He served his country in the U.S. Army Reserve and in the U.S. Air Force before finding his calling as a skilled carpenter, a calling he pursued and perfected for nearly 50 years. In his lifetime, he called seven states his home (Oklahoma, California, Kansas, Missouri, New Mexico, Minnesota and Colorado), drove tanks for the Army, maintained equipment for the Air Force, farmed, ranched, and built furniture, cabinets, homes, schools, stores and office buildings. And he graciously served you as you shopped for produce at Walmart.
Jerry's love for God, his passion for his family, his skill in woodworking, and his genuine and infectious smile distinguished him among his family and friends. His home is adorned with the furniture and art he created with his own hands, and his family bears his devotion to God, smiles, laughter and his unique sense of humor as a legacy for generations to come.
Jerry is preceded in death by his father, Yale, his mother, Clarice, and his brother, James. He is survived by his wife of over 35 years, Roylene, his three sons: Michael (Angela), Randall, and Kenneth (Cynthia), and his three stepdaughters: Tammy (Frank Gunnink), Debbie (Guy Motes), and Jody Baker. He is also survived by his brother William (Ginny), his sisters Joanie (William Qualls) and Barbara Johnson, his sister-in-law, Sharon, and a multitude of grandchildren, great-grandchildren, cousins, nieces and nephews; too numerous to list, but too precious for Jerry or his family to forget.
All are invited to join Jerry's family and friends to remember his time with us and celebrate his life at College Church of the Nazarene, 2020 E. Sheridan St, Olathe, Kansas on Saturday, May 28, 2022. Visitation will begin at 10:00 am and the memorial will begin at 11:00 am. Jerry will be interred at the Leavenworth National Cemetery, located at 150 Muncie Road, Leavenworth, Kansas in a private ceremony.
Jerry's family encourages donations in Memory of Gerald Phillips to the Lewy Body Dementia Association at www.lbda.org/donate. Donations will support research of the Lewy Body Dementia disease for accurate diagnosis, treatment and cure, and for outreach and care for afflicted families.
In 2011, Jerry was diagnosed with Lewy Body Dementia, an often-misdiagnosed form of a terminal illness that progresses and affects the patient differently than what is commonly expected from dementia. It doesn't get talked about as much as other ailments like Parkinson's Disease and Alzheimer's, which makes awareness, identification, treatment and care more difficult to come by. If you would like to learn more about this disease, you can read about it at the Lewy Body Dementia Association (www.lbda.org).